Now, I am not one for new year's resolutions – never have been. I've always thought if you want to do something, you would just do it, instead of waiting for a new year to come around every time you decide to try something new, stick to something, lose weight etc… But this year.. I do have something I want to do… I want to read more. I'm calling it a goal 😉 .. It doesn't necessarily have anything to do with it being a new year, it's something I've wanted to do for ages, just now is a point in my life where I have some spare time (After finishing my Master's uni course – phew).
As you can see above, I have plenty to get on with – These were all Christmas gifts that I asked for, after seeing so many raving reviews for each of them on blogs, instagram and also from my friends. (Except for Revenge Wears Prada, I've had that one for a while and started it several times… Maybe this year will be the one where I finish it!)
Also, I found this bookmark recently, in one of my random boxes, with a note from my Mum "Saw this and thought of you" (I love penguins..) Not really sure why I didn't start reading as soon as I received this!!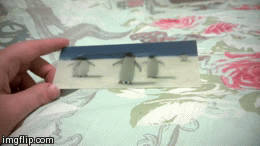 Another GOAL I've decided to take on is to blog more… I started my back in April 2014, after booking a two-week holiday to Rome, and I was just so excited I wanted to tell the whole world! I was then going to blog about my planning of my trip… but that didn't happen. I'm not sure how many posts I have made since then, but it's definitely less than 20. So I'm also hoping to improve on this, and that's why I treated myself to the Blog Topic Ideas book to hopefully get some inspiration. I have had a flick through and have seen some good ones in there already! 🙂 So, watch this space…
I know I'm a bit a lot behind the times with these books, so which should I read first?! What are your reviews? If I do get round to finishing them, I will be posting reviews of my own .
Cioa for now